Share
There are some memes that sum up 2014 better than words ever could. I mean, it's December, so it's great fun to look back at what we've all been laughing at over the past 12 months. Boy has it been strange! From the Winter Olympics to the World Cup and THAT picture of Kim, here's a round up of the memes that sum up 2014 perfectly. How many did you use?
---
1

Suarez' Bite…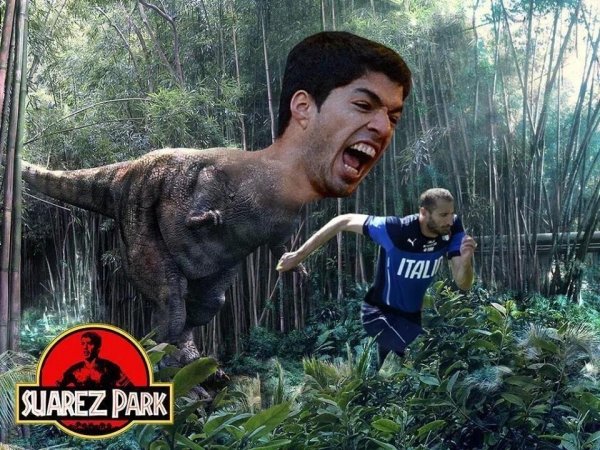 Yep, one of the most well-known memes that sum up 2014 is that Suarez bite. The Liverpool player (at the time!) already had a reputation after chomping on a Chelsea player during a Premier League match, and he repeated the performance during the World Cup, this time biting down on Italian player Giorgio Chiellini.
As you can imagine, brands went crazy. From KitKat to McDonalds, everyone started sharing hilarious images, and internet users started photoshopping Suarez biting EVERYTHING. My favourite? The Jurassic Park image.
---
2

Ashley's Anger…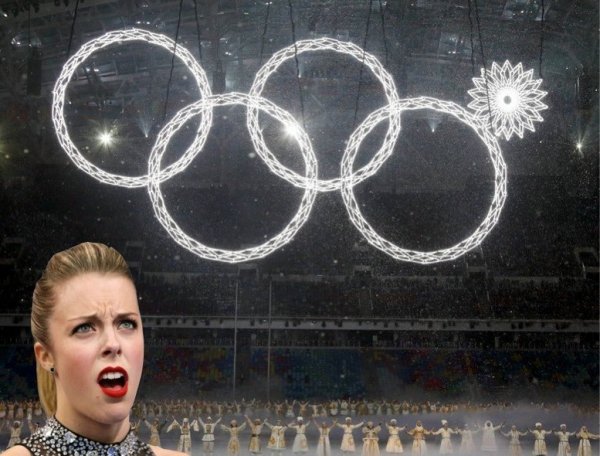 American figure skater Ashley Wagner couldn't hide her disappointment during the team event, when the judges gave her a lower score than she'd expected. The resulting photo went super-viral, and Ashley's anger has been photoshopped into just about every situation known to man since. She might not have won any medals, but she definitely won the internet.
---
3

The Unimpressed Lizard…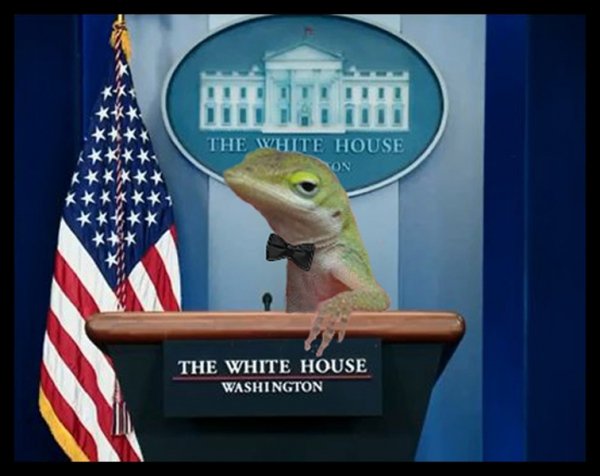 If you're a Reddit fan, you'll definitely be familiar with this guy. It started when a man shared a photo that his girlfriend had taken of his lizard looking suitably unimpressed. That expression! Soon it was being photoshopped onto the bodies of people such as Obama and kids in cute pyjamas, as well as into hilarious situations. If you need a few minutes laughter that requires absolutely no thinking, give it a search.
---
4

Pharrell's Hat…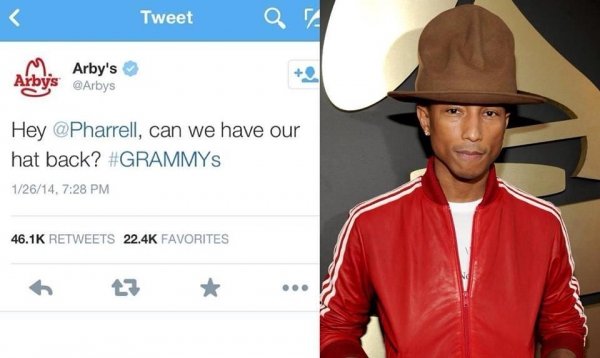 Pharrell set the 2014 Grammy awards on FIRE with a huge hat. The piece, designed by Vivian Westwood, looked more like something you'd find on a ranch than on a red carpet. Twitter exploded with banter (including that famous exchange with Arby's), and Pharrell's hat has now been photoshopped onto just about anyone ever. He put that buzz to good use, too – he auctioned the hat for charity a few weeks later, with Arby's being the highest bidder.
---
5

THAT Mugshot…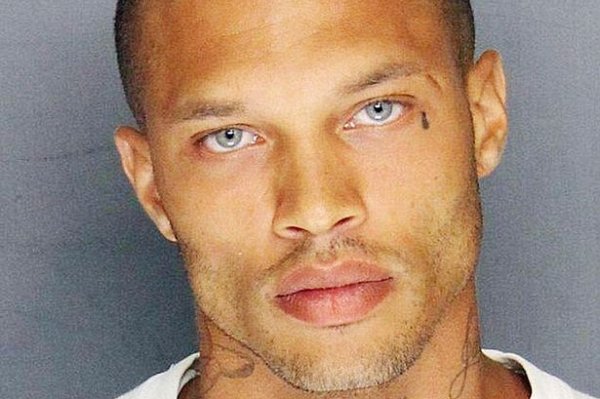 It's not often that mugshots catch the eye. I mean, usually, it's because the person is doing something crazy or looks utterly bizarre. That's not why Jeremy Meeks made the news, though…the heartthrob had one of the sexiest mugshots ever, and it sure was appreciated online. The 30-year-old inspired the #FelonCrushFriday hashtag, and was even offered a modeling contract.
---
6

Kim's Lube…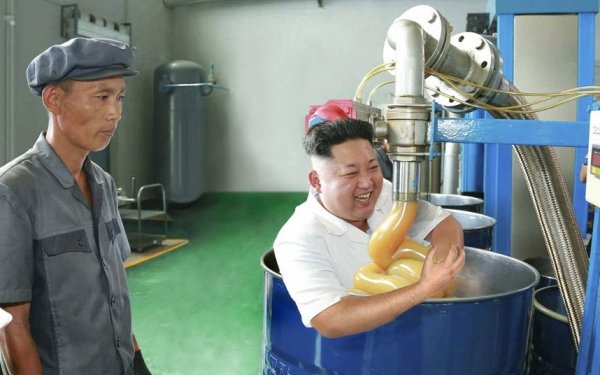 Kim Jong-un is a meme generator. Earlier this year he spawned the most bizarre meme ever, after a state news agency released official photographs of the North Korean dictator grinning in absolute delight at a lube factory. Yes, you read that right. No-one has ever looked happier to see lube…especially not the worker stood next to him. It didn't end there, either…after disappearing for a few months, leading to rumours that he was very well or had been overthrown, Kim appeared in more photos – this time with some naughtily-placed teddies behind him. Whoever organizes his photographs deserves a drink on us!
---
7

The Other Kim…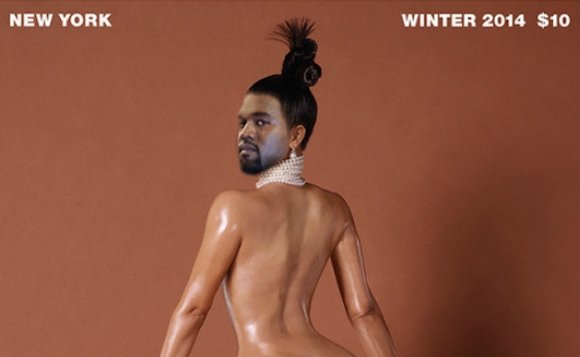 It wasn't just Kim Jong-un who was breaking the internet, either. Not one to be outdone, Kim Kardashian stripped off for paper magazine, with the front cover of the magazine revealing her famous bum glossy with oil. The internet went crazy, doing everything from making her into a hotdog to changing her face to Kanye, or even transforming her into a horse, complete with shiny bum. As memes that sum up 2014 go, this one just can't be beat….and the internet hasn't really got started on THOSE full-frontal inside shots, either.
Of course, while these are the best memes that sum up 2014, there were plenty of others. Tim Howard's crazy saves, anyone? Kermit the Frog sipping tea? Even five-year-old Noah Ritter, who has a big love for the word 'apparently', became huge. Whichever your favorite memest that sum up 2014 are, one thing is for certain - we love our memes!
More