It's finally Friday and we are all ready for the weekend! I plan to relax, enjoy the weather, and maybe rent a few movies to watch with the kids. Maybe you are planning to do the same this weekend and perhaps if you are the winner of our new **giveaway contest **from Lionsgate Filmsyou won't have to rent any movies for a few weeks! One lucky reader will have the chance to enjoy not one, but three new Blu-Raydiscs that are set to release on July 19th. Are you a fan of Chocolat, Bridget Jones's Diary, and Amelie?
Going to the Movies...
"Movie lovers will be seeing stars this summer as Lionsgate debuts three beloved, acclaimed Miramax films on Blu-ray Disc – Bridget Jones's Diary, Chocolat and Amélie. Presented for the very first time in 1080P High Definition and 5.1 DTS-HD Master Audio, all four films feature award-winning casts and engaging storytelling. Each Blu-ray Disc premiere is loaded with special features and will be available on July 19th for the suggested retail price of $19.99."
Bridget Jones's Diary...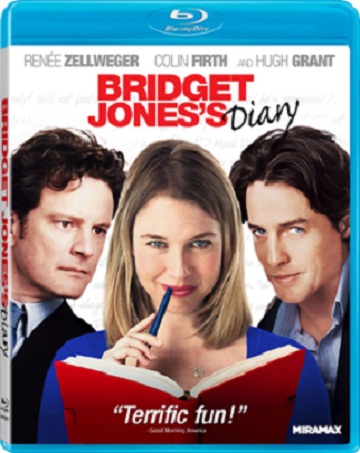 "Academy Award® winners Renée Zellweger (Best Actress in a Supporting Role, Cold Mountain, 2004) and Colin Firth (Best Performance by an Actor in a Leading Role, The King's Speech, 2011) star alongside Hugh Grant in the deliciously funny romantic comedy about a 30-something British woman looking for love in all the wrong places. A busy journalist and a "singleton" lost amid a sea of "smug-marrieds" in London; Bridget Jones (Zellweger) turns over a new page by channeling her insecurities into a journal that's a hilarious chronicle of her misadventures. Her starring role, based on the best-selling book series, garnered Zellweger a Best Actress Oscar® nomination and spawned a hit sequel."
BLU-RAY DISC SPECIAL FEATURES*
• Audio commentary with Director Sharon Maguire
• "The Bridget Phenomenon" featurette
• "The Young and the Mateless" featurette
• "Portrait of the Makeup Artist" featurette
• Behind-the-Scenes featurette
• Deleted Scenes
*subject to change
**CAST: **
Renée Zellweger: New in Town, Cinderella Man, Cold Mountain, Chicago, Jerry Maguire
Colin Firth: The King's Speech, A Single Man, Love Actually, Girl with a Pearl Earring
Hugh Grant: Did You Hear About the Morgans?, Love Actually, About a Boy, Notting Hill
Continue to the 2nd movie...
Chocolat...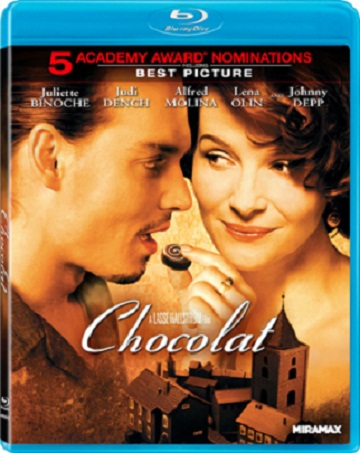 "Nominated for five Academy Awards® including Best Picture, Best Actress and Best Supporting Actress, Chocolat is the "charming and whimsical" (Roger Ebert, Chicago Sun-Times) romance starring Juliette Binoche, Johnny Depp and Judi Dench. When Vianne (Binoche) arrives into a sleepy, old-fashioned French village and opens a chocolate shop, she sends the townspeople into a flutter with her uniquely gifted treats. Before long the straitlaced villagers find themselves abandoning their reservations and succumbing to their deepest desires!"
BLU-RAY DISC SPECIAL FEATURES*
• Audio commentary with Director Lasse Hallstrom and Producers David Brown, Kit Golden and Leslie Holleran
• "The Making of Chocolat" featurette
• "The Costumes of Chocolat" featurette
• Production Design featurette
• Deleted Scenes
*subject to change
CAST:
**Juliette Binoche: **Dan in Real Life, Caché (Hidden), The English Patient, Three Colors: Blue
**Judi Dench: **Jane Eyre, Quantum of Solace, Notes on a Scandal, Shakespeare in Love
**Alfred Molina: **Spider-Man 2, Frida, Boogie Nights, Magnolia, Raiders of the Lost Ark
**Lena Olin: **Remember Me, TV's "Alias," The Reader, The Unbearable Lightness of Being
Johnny Depp: Alice in Wonderland, Pirates of the Caribbean series, Edward Scissorhands
Continue to 3rd movie and how to enter...
AMÉLIE...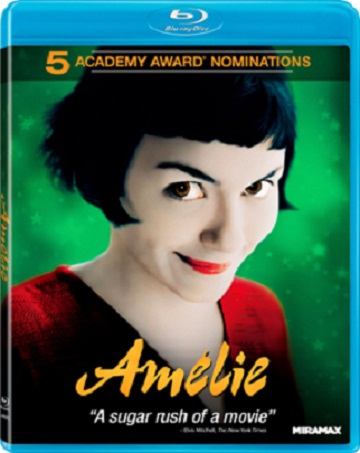 "Nominated for five Academy Awards® including Best Original Screenplay and Best Cinematography, Audrey Tautou (Coco Before Chanel) stars as the French title character, Amélie, in this "sugar rush of a movie" (Elvis Mitchell, The New York Times) that earned People's Choice Award honors at the Toronto, Chicago and Edinburgh International Film Festivals. At a tiny Parisian café, the adorable yet painfully shy Amélie (Tautou) accidentally discovers a gift for helping others. Soon she is spending her days as a Cupid, guardian angel and all-around do-gooder. But when Amélie bumps into a handsome stranger, will she find the courage to become the star of her very own story?"
BLU-RAY DISC SPECIAL FEATURES*
• "The Look of Amélie" featurette
• Fantasies of Audrey Tatou
• Q&A with Director and Cast
• Auditions
• Storyboard to Screen Comparisons
• "An Intimate Chat with Director Jean-Pierre Jeunet"
• "Home Movies" – Inside the Making of Amélie
*subject to change
CAST :
Audrey Tautou: Coco Before Chanel, The Da Vinci Code, A Very Long Engagement
Mathieu Kassovitz: Babylon A.D., Munich, La Haine, The Fifth Element
**How to Win All Three Blu-Ray Discs: **
Please leave a comment below telling us which film from Lionsgateis your favorite or if you have seen any of these wonderful movies featured in the giveaway. For a 2nd entry leave a comment letting us know that you like Lionsgateon facebook and for a 3rd entry let us know that you like AllWomenStalkon facebook. Thank you to Lionsgate for this great giveaway. Good luck readers!